WHY BRAND NEW INSTALLATIONS NEED TO BE THERMALLY INSPECTED
Thermography Inspection Performed on December 14th 2011
The Image is of a "Factory Installed" Bus Connection from the 3,000 amp vertical bus to the primary side of an 800 amp distribution circuit breaker.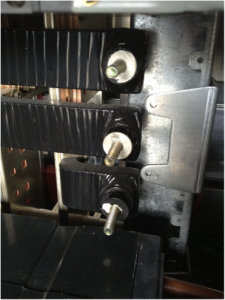 This temperature abnormality was found during the Thermography inspection on phase c of the newly installed GE switchgear. The temperature difference between phase C and phase B is 20 degrees ferenheight (Image #2). The breaker was aproximatley 30% loaded at the time of inspection (phase C-278amps phase B- 284amps). After removing the factory installed GE circuit breaker we found that the insulation tape had overlapped and restricted the current flow from the main bussway in the gear to the circuit breaker lug (Image #1).
The repair was made and the tape was properly removed from the switch gear (Image #3). A re-scan was perfomed on the circuit breaker (Image #4) and phase c was actually running 2 degrees cooler than phase b.