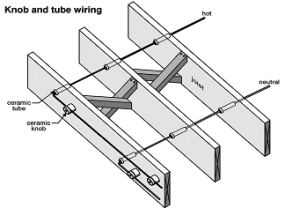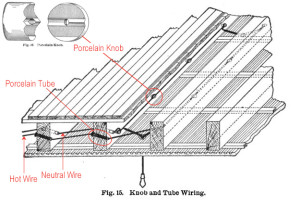 Knob and tube wiring was an early standardized method of electrical wiring systems in buildings, commonly used in Cincinnati from about 1880 to the 1930s. Original homes built in the neighborhoods of Cincy such as Hyde Park, Clifton, Mount Lookout, Norwood, Price Hill, Wyoming, among others, and any homes built in that time period will have knob & tube electrical systems.
Knob and Tube, was designed as an open air system that used ceramic knobs to separate wires from combustible wood framing. These suspended wires were directed through ceramic tubes to prevent contact with the wood framing and starting a fire. Today's practice of "blown in" insulation and other methods of insulating walls that were previously open-air have compounded the knob and tube fire hazard problem.
Today, knob and tube wiring is considered a fire hazard mostly due to faulty reworking, renovations or additions to this aged electrical system by unskilled labor. Furthermore, Knob and Tub was not intended for the electrical load demands of today's modern home appliances,  electronics, and our overall larger electrical loads. Knob and Tub also does not have the safety feature of a grounding conductor.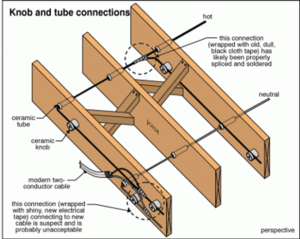 Homes with existing k&t electrical systems dating back to before 1940, have fewer branch circuits than is desired today. Further compounding the problem was the practice of installing higher current rated fuses in the old "fuse box" that would prevent a blown fuse, but would cause heat damage to the wire intended for a lower current rating.
As existing K&T wiring gets older, insurance companies may deny coverage due to a perception of increased risk. Several companies will not write new homeowner insurance policies, at all unless all K&T wiring is replaced, or an electrician certifies that the wiring is in good condition. For this reason, we recommend having our CurrentSAFE service performed on your k&t system.
Lastly, depending on the age of the home, the very first form of lighting in your home might have been gas powered ceiling fixtures. Therefore, there could very well be live gas lines in your ceiling, albeit, ones that are sealed, however these gas lines often still support old style light fixtures or chandeliers that were retrofitted with electrical wiring and electrical sockets for bulbs. When removing these fixtures it is imperative to understand that the gas lines are most likely still filled with gas and not to loosen the seal. The knob and tube wiring was added after the gas lines, as show here: