Service Panels - We Serve All Types
Electrical panels are the heart of your home electrical system. Often when power is out to circuits in the home, the main circuit breaker panel should be inspected. Many things can negatively impact your electrical panel and breakers, from heat to water. Excessive heat is typically caused by improperly sized wiring or over loaded breakers. Water intrusion leads to corrosion of the lugs inside the panel which leads to failed connections and fire hazards.
These main concepts can help determine the path to correcting the issues with your panel.
What type of panel do you current have? Manufacturer Name
When was your panel originally installed?
What size is your main circuit breaker?
Have you added additional circuits recently?
Common Issues With Existing Circuit Breaker Panels
Water Damage at Panel Causing Corrosion
Excessive Heat Due to Overload
Failed Connections
Overloaded Panel with Excessive Loads
Water leaking from your panel?!
Water leaking from an electrical circuit breaker box, typically indicates that your electrical service entrance cable is acting as an aqueduct from the outside, wicking water into your panel. Water intrusion and moisture will lead to rust and corrosion in electrical panels over time. The above photo illustrates that the bus bar where the breakers connect to get power is corroded. The panel had to be replaced, and the where the water was intruding into the home had to be found and sealed properly. Damage like this can lead to a fire. You can visit
Inspectapedia for their take
.
Your new electrical service includes the following: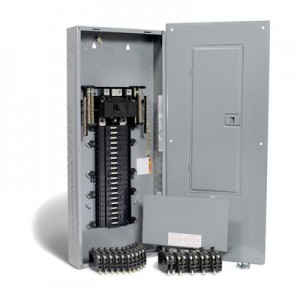 QO Brand circuit breaker which has a legacy of more than 50 years as an industry- leading premier product of the Square D brand
Cooper Electric will obtain the electrical permit and arrange for the electrical inspection. We will also coordinate the inspection by the local utility company.
New distribution panel including a main circuit breaker sized to coordinate with the amperage of the electrical service. We use Square D QO brand copper buss bar panels with a LIFETIME WARRANTY.
New branch circuit breakers sized to match the maximum current carrying capability of the branch circuit conductor.
Square D QO brand branch circuit breakers are WARRANTED FOR THE LIFE of the panel in which they are installed. Our 100 amp panel has space for 30 single-pole, full-size circuit breakers. Our 150 amp panel can accommodate 30 single-pole breakers. Our 200 amp panel can accommodate 42 single-pole breakers.
New weather head that protects the cable from rain water.
New insulator for Duke overhead service lateral, if required.
New meter socket and meter - installed on outside of home
New copper clad ground rod and copper grounding electrode conductors. An aluminum ground electrode conductor is in compliance with the National Electric Code. However, due to the importance of the proper operation of the grounding system during a fault condition and our commitment to a superior quality installation, we install only copper ground wire.
Does Your Home Have Federal Pacific Electric Panels ? - HAZARD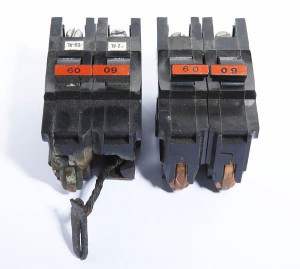 NOTE: If your home has a Federal Pacific Electric Panel. Here is a picture of a failed FPE circuit breaker on the left and what it should look like on the right.
We removed these from a house just last year. It is well documented online
Inspecta-Pedia
and in class action lawsuits transcripts that FPE panels and breakers fail to trip during overcurrent which breakers are meant to do to protect your system.
This failure to trip can cause fire.
We will provide you with additional information from Electrical Inspectors and several online sources regarding this hazard. We recommend that Federal Pacific Electric panels be replaced entirely. If you would like to move forward with replacing this panel with a safer and better quality panel (with a lifetime manufacturer warranty) please do not hesitate to contact us.